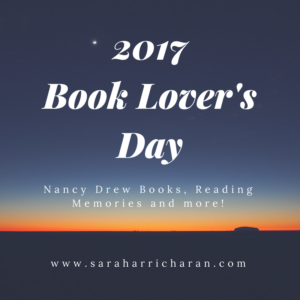 I'm "this" close to missing Book Lover's Day, in spite of thinking about it all day and doing little else creatively–besides mentally plotting out this entire post. Which, btw, is taking a little more brainpower than I can spare right now. So–here we go!
Happy Book Lover's Day–yada, yada, yada, we all like books, they are fun. Do you have a new favorite book? and whatever else goes in there. Right. Yeah.
I didn't exactly brainstorm transitions so–that's what we've got.
That, and an old memory that popped up when I went sifting through my favorite first book memories. It's no secret that I love to read and do so, at every available opportunity–to the excess, when I'm in the mood to feed my muse. (Case in point being my recent addiction to Cozy Mysteries of all sorts and my renewed love-affair with the entire Tea Shop Mystery series).
Ahem. But. Nancy Drew.
You can tell I'm a Nancy Drew fan, by the beautifully kept, yellow-hardcover, volumes, very neatly stacked on the perfectly sized shelf in my reading nook. Yes. I have all the original ones in hardcover. Yes, I also have the additional extra ones.
But–I almost didn't read them. While weekly library trips were a favorite to anticipate, I was just settling into a good re-reading routine, when my delightful mother thought it would be a good idea to spring "higher reading level" books on me. At the time, that was the absolute worst thing in my little literary world. I wanted to read more books–yes–but not books with so small words and only a single picture on the cover!
"The Hidden Staircase" was the second book in the series and the first Nancy Drew novel that was put in my hands. Bored out of my mind after re-reading my library stash for the third time, I curled up on the sofa and begged my mother to read to me. She was reading her own mystery novel at the time, but set it aside and started reading to me.
It was great, until I figured out the magical lure of a mystery novel–a "grown-up" mystery novel, mind you. Something happening, no one knowing what's going on, whodunnit–all of the good things. I remember this like an electrical bolt of clarity. In a matter of minutes, I decided that someone was reading too slow and that if I had my grabby little hands on that book, I could solve the mystery a lot faster.
Never mind, that reading the picture-less book had been quite near "torture" to my imaginative little self–but when my mother turned the page and I saw an old black and white illustration? Yeah. That was it. I thanked Mom for reading and talked until that book landed in my own hands and then hunkered down on the sofa and settled in for a long read.
I have no idea what else I did that day, I only know that i read the most marvelous mystery book in the world–(and still a solid Nancy Drew fave of mine today)–and that it was fabulous. In the subsequent months, I read every single mystery I could find at the library. Starting with Nancy Drew and working myway up to Agatha Christie–I read anywhere from seven to ten novels a weekend–a habit still present in my reading binges today.
My point? Books are awesome and finding that magical reading moment, is usually the trigger for dedicated book lovers. We've got to like it. Want to read it. Find some kind of magic in it.
Because, after all–that's what books are, right? Magic?
Have a fabulous day~!
-S