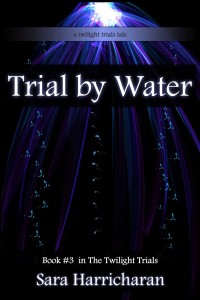 TRIAL BY WATER : TWILIGHT TRIALS #3
Marcus Gillen is a Twilight Knight with elite Gold Clearance gifted to him since his Knightship. Twilights with Golden Queue training are taught to play a game of wits with their mission objective and Marcus is one of the best. But his latest mission has popped up at a bad time. His gift is water–a double-edged sword to an elemental bearer. It can show him the darkness in the world–and the darkness inside himself. Visiting Kainesworth on assignment opens a new set of puzzles for Marcus, including run-ins with an ancient sea serpent and one strange little girl. Digging deep into his past might provide a few answers, but in doing so, Marcus is forced to take a closer look at himself. The darkness he's fighting may be closer than he thinks. Can he win this game or will he drown trying?
Click here to read a full excerpt!
Available through Amazon, Barnes & Noble, iBooks, Kobo, Scribed and Smashwords. $2.99