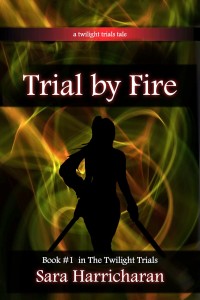 TRIAL BY FIRE : TWILIGHT TRIALS #1

In Amerinth, Shatila is a young Twilight Knight up for promotion to the level of Twilight Titan. It is a coveted position she longs for. The only thing standing between her graduation ceremony is a few personal barriers. Can she make peace with her inner self in time to prepare and join the Titan ceremony? All seems possible until Master Dugene interrupts her meditations with one final assignment, an escort mission for a Duke? The last thing Shatila wants is to trek through the dense Amerinth jungle with a clueless noble in tow–but when she wins the mission by demonstration rights, she cannot refuse. Can this frustrated knight handle one final assignment? Or will her temper bring all her hard work crashing down?
Click here to read a full excerpt!
Available through Amazon, Barnes & Noble, iBooks, Kobo, Scribd and Smashwords. $2.99.
"Each sentence kept me in anticipation and the story delivered. Loved the suspense and vivid details of this fantasy. The only thing I didn't like was when I turned the page and found it ended. I was thrilled to see Sara's next book Trial by Air is available!" – Rita Garcia