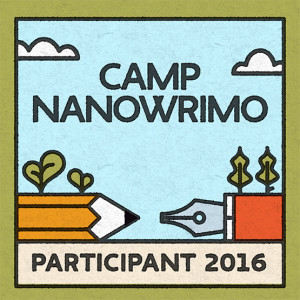 It's national grilled cheese day. You know, just in case you were wondering or anything. No, I didn't get to make the fantastic sandwich I was dreaming of for the past eight hours–but I'll live. >_> Right. Happy 12th day of Camp NaNo.
Camp NaNo is going rather terribly the moment for reasons that are entirely too "me". First, I've had the worst time sleeping this month–and Sara with no sleep is a terrifying, scary thing. Two, my words took forever to unstick themselves–even after I passed the usual 10k mark that shakes things up. Three, I have too much to write!
As per my usual nanowrimo style, I have thousands of words to write and zero time in which to actually write them. I've been scribbling on my lunch breaks, racking up a 500 or so words here and there, but my overall word count is quite sad.
I made it to 14k today–which I will update after a final attempt to write–instead of blogging. Ahem. Right.
Good luck to everyone still plugging away, you are amazing and you can do it. I'm a bit alarmed at the number of writers I've seen drop out of the camp nano this year. It's quite a bit more than usual, so kudos to you if you're sticking this out. Go for it. Let it be a creative expression and write ALL the words!