A/N: Well, I'm not quite sure how I ended up with poetry over fiction, but the prompt was "Burning" and I had a song kind of stuck in my head, so here we go. I think I'll revise this at some time later, because I don't like the way it ended, but I wanted to post something for today and let everyone know that I'm coming back from the summer. I've missed everyone and I've missed blogging, so head's up for Sara returning in a flurry of words, stories and adventures of all kinds. ~Cheers!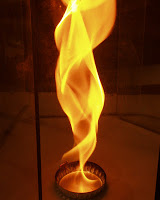 Found on Google Images. I own nothing.
BURNING UPSIDE DOWN



Burning, twisting, dying, falling.
I'm burning. I'm on fire. It's sparking, leaping, jumping and trying.
It's trying to be me.
I'm burning. I'm on fire. I'm flickering, as I fly higher.
Think I'm gonna fall.
Think I've done it all.
Help me, please. Give me one reason to live
I'm burning and fading away, without hope for another day.
Don't let me die so soon. Don't let me burn right out.
Give me a wish, a dream, a hope. Give me the chance, a final note.
I'll make you proud and I'll stand tall.
I'll make my own place, in history's hall.
When I am grounded inside and out,
Given thanks for my gifts and showed them off,
My burning flame will remain true
One special memory, one last view.
(c) Sara Harricharan