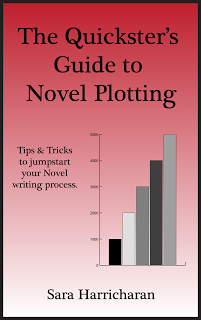 The Quickster's Guide to Novel Plotting : Sara Harricharan : Non-fiction : Self-help Guide
Tips and tricks from someone who's been there, if you're trying to figure out how to start plotting your novel, this guide provides a quick character bio, suggestions for plotlining and other Gridwork methods. It is designed to help you jumpstart the planing and outlining process for your literary masterpiece. Aimed to be a quick guide for first-time novelists and written in a conversational tone, the Quickster's guide features practical advice for working out the basic points of your novel. Perfect for first time participants in National Novel Writing Month.


Author's Note: This guide was specifically written to explain my personal creative process and how I survive the insanity of National Novel Writing Month. Inside, you will find some quick tips and tricks, as well as an explanation of my process known as "Gridwork". It is a short collection of things I have learned over the years that enhances my noveling process. I hope you enjoy the read and that it is helpful to you in some way-happy writing!
Now available on Smashwords! To read an excerpt, click here! $2.99